About Decibels
DECIBELS is one of the emerging CCTV companies in Dubai that supply the equipment and installation services necessary for you to implement this security measure according to your needs. We at Decibels Radio & TV station Equipment Installation LLC are proud to be recognized as one of the most reputed SIRA certified companies in Dubai.
Our Mission
To Provide tomorrows technology today, for every home, office and organization. offering the highest standard of quality and relaibility, at a more affordable price
Our Products DECIBELS is a ISO 9001:2015 Certified part of Welcome Group which is one of the leading buisness groups based in Dubai through its retail arm Al Falak Electronics LLC. Since its inception in 1973, it has successfully transitioned from a retailer to a group of companies dealing with products of all range of electronics. Decibels Radio TV Station Equipment Installation LLC, MiniMart LLC, Mall Mart are some of the Group Concerns. We are running more than 100+ showrooms and concepts all over UAE, Qatar, Muscat, Saudi Arabia, Kuwait and India.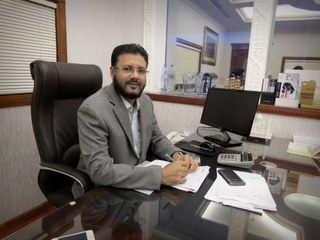 Mr. Ashraf Aboobacker
Managing Director, Welcome Group
I would like to take this opportunity to dedicate our success to our customers, partners, associates and our committed employees of today and yesterday who have persistently stood by us through the voyage of change and challenge. When we started this journey in the year 1973, we had hope in our hearts, dreams in our mind and faith in our customers. Everyone's continued trust has indeed significantly strengthened our mutual aspiration of making us as one of the UAE's renowned Electronics retailer. It's been over 4 decades when my father Late Mr. Aboobacker Haji opened the first shop in Deira and there has been no looking back ever since. The strong values by my father has been guiding me to fulfill the vision for this company. We are geared towards achieving our mission to be the leading company in our sector in the Middle East. As you can see, Al Falak Electronics is committed to remain at the forefront of providing its customers with the latest technology and after sale support. Being in this competitive era of entrepreneurs, we have survived because of our honesty and commitment to our customers. After Al Falak's success story, we inaugurated DECIBELS, our sister concern, in 2005 providing the best solution in the field of Security and Home & Office Automation. We are SIRA,GRA and TRA registered and within a short span of time, we have achieved our clients' trust and satisfaction. Our strategic formula for success is to keep it simple, keep it grass roots, and focus on what we do best, serve our clients and customers. Once again I wish to thank all Welcome Group employees and managers, to whom we owe this recognition and to our valued clients without whose help we would have not come this far